Corporate Overview DAVIS-STANDARD 会社紹介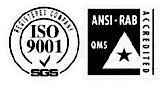 Davis-Standard, a worldwide technological leader, designs and manufactures extrusion systems and process controls for all thermoplastic and elastomer processes. デービススタンダード社は世界的に押出し機械のリーダーであり、すべての熱可塑性エラストマー用押出し機とそのシステム、コントロール機器を設計製造しております。

History:会社の歴史
  Davis-Standard was founded in 1848 as a cotton gin machinery manufacturer. The company entered into extruder manufacturing in 1948, and by 1955 was designing and manufacturing extruders for the wire and cable, plastic, and rubber industries.

Annual Sales: 年間売上金額: Annual sales exceeding $300 million.年間360億円

Employees 社員数 : Over 1,300 worldwide 世界で1300人以上.

Parent Company:親会社:  Crompton Corporation, a Fortune 1000 company with stock publicly traded on the New York Stock Exchange under the symbol "CK"親会社のクロンプロトン・ノーウェル社はニューヨーク証券市場での上場企業であり、フォーチュン誌1000社に選ばれています

Facilities:設備: Encompassing over three-quarters of a million square feet (69,750 square meters) of manufacturing space in the United States, England, France, and Germany.広さ69750m2の工場(米国、英国、フランス、ドイツ)をもっております

R & D Centers:R&Dセンター: 米国コネチカット州の本社工場内、ニュージャージ州、ドイツの三っ所のR&DセンターをもっていますThree (3) technology centers located in Pawcatuck, Connecticut, Somerville, New Jersey, and Erkrath, Germany.

地域別の活動: